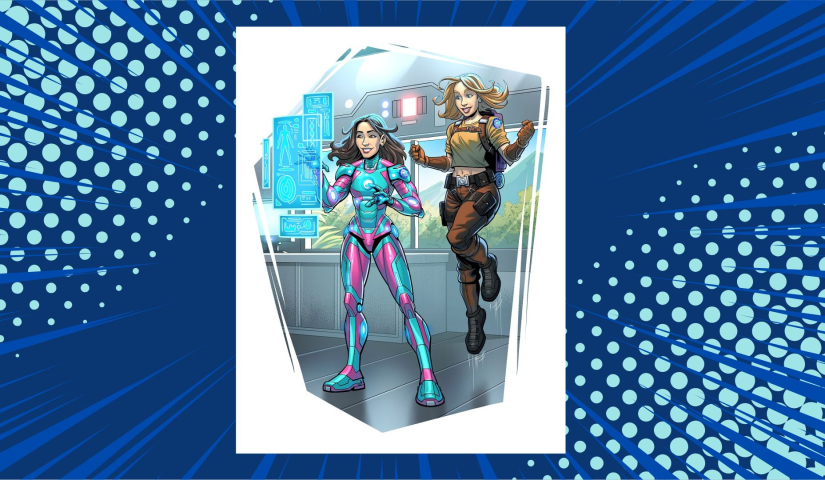 Participant Spotlight
Meet TrialNet heroes: Talia and Ali
Meet Talia & Ali: Sisters Talia and Ali use their superhero powers to prevent health conditions from ending up as emergencies. Talia combines her health informatics skills with time travel to identify who's headed for trouble. Ali jets through the clouds at superspeed to deliver the news.

Talia's passion for health prevention screening is personal. After ending up in the hospital with a shocking type1 diabetes (T1D) diagnosis, she wants to prevent others from the same fate. Talia shares information about TrialNet screening on her T1D Instagram platform and encouraged Ali to get screened. Ali didn't hesitate; she signed up that very day!
There's no age limit on being a TrialNet hero. Sisters Talia, 26, and Ali, 25, of Greater Toronto, went from knowing next to nothing about T1D to being TrialNet social media superheroes.
Like so many people, Talia Marshall was caught totally off guard when she was diagnosed with T1D in February 2020. She attributed being overtired to the fact that she was busy completing her master's degree and working as a waitress.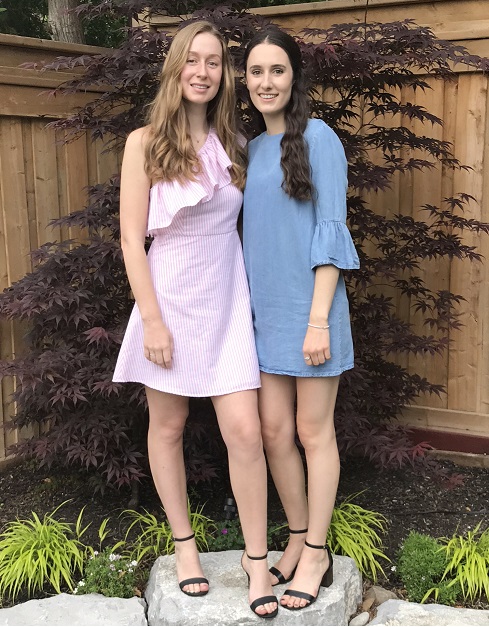 "I was thirsty, tired, moody, and just not myself," explains Talia. "When I googled my symptoms, diabetes came up as a possible match. But I thought type 2 diabetes was linked to being overweight and type 1 was diagnosed in childhood. So, neither seemed like a match for me."
"When my sister and mom finally convinced me to go to the doctor, I ended up in the hospital in DKA (diabetic ketoacidosis) and on an insulin drip for 2 days, followed by 2 days of long acting and rapid acting insulin injections," Talia recalls. "It was a scary experience."
T1D Fact

For people taking part in T1D research, the risk of diabetic ketoacidosis (DKA) at diagnosis drops from 30% to less than 4%. DKA is a serious condition that can be life-threatening.
After her diagnosis, Talia wanted to learn everything she could about T1D. She started following public figures with T1D on social media, as well as reputable T1D social media platforms. "I saw a post by the mother of 8-year-old twins sharing her family's experience with TrialNet risk screening," said Talia. "One twin has type 1 and the other tested positive for autoantibodies. I shared the post with my sister, family members, and followers on my T1D Instagram platform."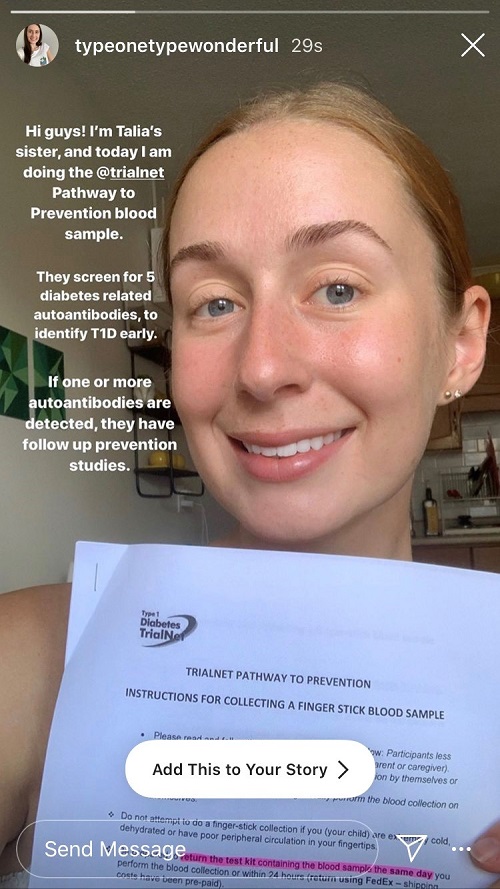 That's when sister Ali got involved. "After Talia told me about TrialNet risk screening, I went to the website and read about it," says Ali. "I decided pretty quickly that I wanted to do it and signed up that day! To me, it's important to take part in research when you can."
Ali ordered the in-home test kit but had trouble with the self-administered fingerstick. "I had Talia on FaceTime while I was trying, but I couldn't get more than two drops of blood," recalls Ali. "I contacted TrialNet and they sent me a lab kit to take to a local lab for a blood draw. It was super-quick and easy. Everyone was really helpful."
Ali's test came back negative for T1D autoantibodies. She says, "It was a great relief for sure!"
With the help of a continuous glucose monitor and an insulin pump Talia is managing her T1D. "It takes a lot more time to manage than anything else in my life," she says. "But I've accepted the diagnosis and the fact that I have to put more time into managing my health. I can still do everything I used to do. I just have to plan ahead."
Talia finished her master's program and is working in the health informatics industry. And, while she hasn't personally participated in TrialNet research, she's interested in joining a clinical study when one becomes available.
The sisters continue to enjoy hiking together and remain committed to spreading the word about TrialNet. They consider themselves lucky to have found such an important health resource.
Interested in becoming a TrialNet hero?

It all starts with TrialNet risk screening that can detect T1D years before symptoms appear. You can learn your risk with a free in-home test kit delivered to your door. All you need to do is collect a blood sample using a fingerstick and send it back using pre-paid, contactless FedEx pick up.

If you prefer, you can order an in-lab test kit to take to a local lab for a blood draw. Or you can schedule a blood draw at one of TrialNet's many locations. Sign up today at trialnet.org/participate.

Connect with us on Facebook or Instagram to meet more heroes in TrialNet's T1D Heroes Academy.