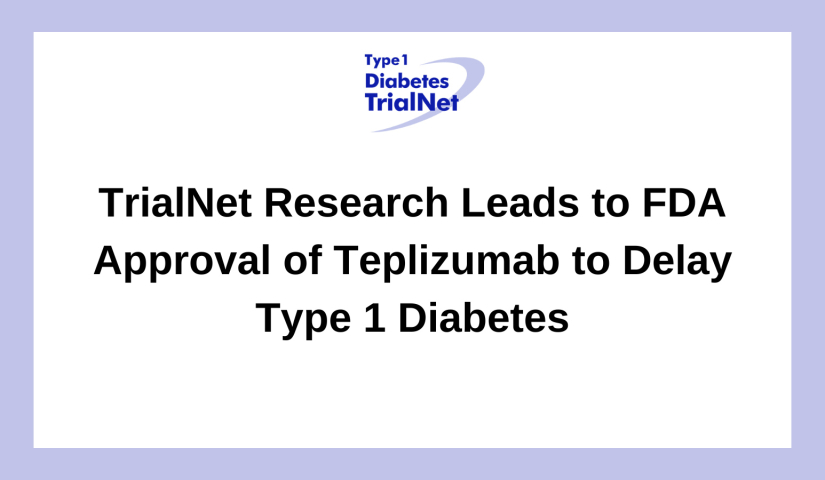 Media Release
TrialNet Research Leads to FDA Approval of First Drug to Delay Type 1 Diabetes
Landmark findings from TrialNet research were instrumental in the Food and Drug Administration's (FDA) November 17, 2022 approval of the first drug to delay type 1 diabetes (T1D) in people at risk.
TrialNet conducted the clinical study that discovered the immunotherapy drug teplizumab could delay T1D for 2+ years.
To develop this study, TrialNet collected data from more than 200,000 relatives of people with T1D over the past 20 years. This led to the development of the stages of type 1 diabetes, making it possible to identify who will develop T1D and move prevention research forward.
TrialNet Chair Kevan C. Herold, M.D., Yale University, served as TrialNet Principal Investigator for the study that spanned 10 years.
"We want to thank TrialNet research teams and participants in the Teplizumab Prevention Study and everyone who has participated in T1D research," said Dr. Herold. "With your help, we are one step closer to a future without T1D."
Study participants were relatives of people with T1D who had two or more diabetes-related autoantibodies and abnormal blood sugar levels, as identified by TrialNet screening. These individuals are thought to have a lifetime risk of clinical diagnosis nearing 100%. Of the 76 high-risk individuals who participated in the study, 55 were under age 18.
"We will build on this landmark success by continuing to study and identify new ways to slow and eventually stop T1D," said Dr. Herold. "This accomplishment opens the door to prioritize development of new therapies for slowing and stopping T1D."
Similar to other autoimmune diseases, such as rheumatoid arthritis, more than one drug may be needed to delay or prevent T1D in everyone. TrialNet is aiming to find other drugs and combinations that work best to offer them to all people who are at risk for T1D.
TrialNet currently has several studies at various stages, including:

The STOP-T1D Prevention Study is scheduled to open for enrollment in early 2023. This study will test a low dose of the immunotherapy drug anti-thymocyte globulin (ATG) to see if it can delay or prevent T1D in people ages 12-35 who have a 50% risk of clinical diagnosis (stage 3) within 2 years. Risk is defined by having two or more diabetes-related autoantibodies and abnormal blood sugar levels (stage 2 T1D) and at least one high-risk marker (based on test results).

TrialNet's TOPPLE Study is currently testing the safety of a new plasmid therapy in adults diagnosed with T1D in the past 48 months. If this study results in no safety concerns, TrialNet hopes to conduct larger studies to see if this same treatment can slow down or stop T1D in people at risk.

In addition, TrialNet thanks the more than 400 people who took part in TrialNet's Abatacept Prevention Study and Hydroxychloroquine (HCQ) Prevention Study. Results for these studies will be reported in 2023.

To learn more, visit trialnet.org/our-research.