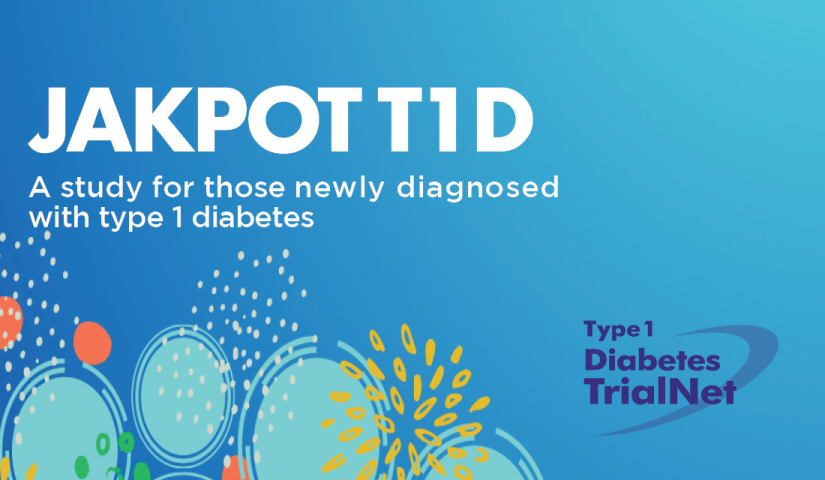 Research Spotlight
New onset study now open for enrollment — TrialNet launches study to test JAK inhibitors in type 1 diabetes
TrialNet researchers are testing two promising new treatments to see if either or both can preserve insulin production in people recently diagnosed with type 1 diabetes (T1D).
The JAKPOT T1D Study will test abrocitinib and ritlecitinib, a new class of autoimmune treatments called Janus kinase (JAK) inhibitors. If either or both treatments are successful, they may be studied in earlier stages of the disease to see if they can prevent or delay clinical diagnosis (stage 3).
The TrialNet study is the first to test whether either treatment can preserve insulin production in people newly diagnosed with T1D. Researchers believe JAK inhibitors may be able to calm the immune system response that harms insulin-making beta cells. Continuing to make even a small amount of insulin helps keep blood glucose levels in the normal range, lowering the risk of the long-term complications of diabetes.
The study will enroll 78 people between the ages of 12 and 35 newly diagnosed with T1D (within three months of T1D diagnosis). Participants will be randomly assigned to one of three groups: one group will get abrocitinib, one will get ritlecitinib, and one will get a placebo (it will look like a study drug but has no active ingredients). Neither the participants nor the study team will know who is in which group until the end of the study.
JAK inhibitors are being used and studied in other autoimmune diseases. Abrocitinib is approved by the U.S. Food and Drug Administration (FDA) to treat eczema. Ritlecitinib is being studied as a treatment for several autoimmune diseases, including alopecia, ulcerative colitis, Crohn's disease, vitiligo and rheumatoid arthritis.
For more information about this and other TrialNet studies, visit trialnet.org/our-research.