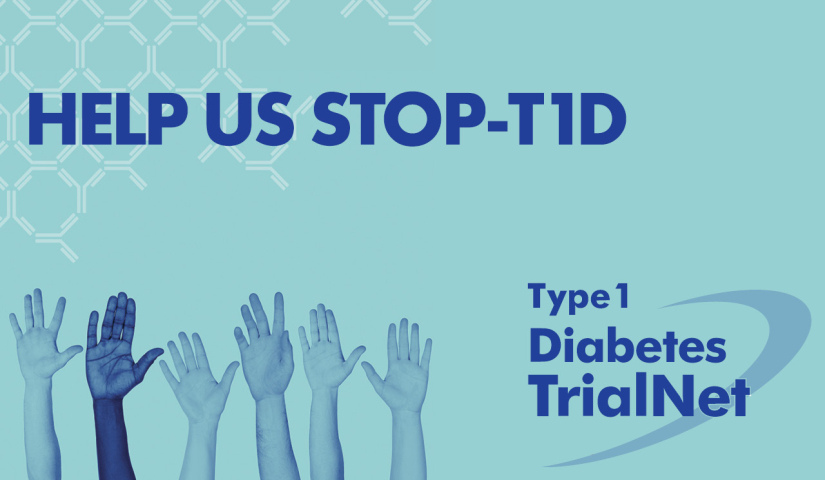 Research Spotlight
New prevention study now open for enrollment – Help us find out if a low dose immunotherapy can STOP-T1D
TrialNet researchers are testing low-dose anti-thymocyte globulin (ATG), an immunotherapy, to find out if it can delay or prevent type 1 diabetes (T1D) in people at high risk of clinical diagnosis (Stage 3) within two years. 
The study, called STOP-T1D, is the first to test this immunotherapy in people at high risk of T1D. A previous TrialNet study of people newly diagnosed with T1D found low-dose ATG preserved insulin production and improved long-term blood sugar control for two years. ATG has been used as the standard of care to prevent and treat kidney transplant rejection for nearly 20 years. 
"Both preclinical and clinical data have shown that low-dose ATG can slow the progression of type 1 diabetes," said Michael Haller, MD, STOP-T1D Study Chair and TrialNet Principal Investigator at the University of Florida, Gainesville. "Now, we're excited to learn whether it can slow or stop disease progression in people at high risk. In fact, individuals who are eligible for this study have a 50% risk of clinical diagnosis within two years."
STOP-T1D will enroll 114 people between the ages of 12 and 35. Two-thirds of the participants will get ATG and one third will get a placebo (an infusion that looks like the study drug but has no active ingredients). In the treatment phase, participants will get two doses of the study treatment (ATG or placebo) by intravenous (IV) infusion over two days. After that, participants will make regular visits to the study site for at least 24 months for monitoring and tests. 
In addition to potentially delaying or preventing disease progression, benefits of participating in this study include personal monitoring from experts at the forefront of T1D research. For people taking part in T1D research, the risk of diabetic ketoacidosis (DKA) at diagnosis drops from 30% to 3%. DKA is a serious condition that can be life-threatening. 
The first step to joining the STOP-T1D prevention study is to complete TrialNet risk screening. Screening can detect diabetes-related autoantibodies that signal the early stages of T1D years before symptoms appear. 
Those who may be eligible for this study will have screening results that are positive for two or more diabetes-related autoantibodies and abnormal blood sugar (Stage 2), plus at least one more high-risk T1D marker based on additional testing. 
The study is currently enrolling people in the United States, with select international sites expected to open soon. Travel assistance is available to help anyone who may be eligible for the study get to the nearest TrialNet location.
As with any medical intervention, there are risks and benefits to participating in this study. For more information about the STOP-T1D study, visit trialnet.org/stop-t1d. Other questions about TrialNet should be directed to info@trialnet.org.