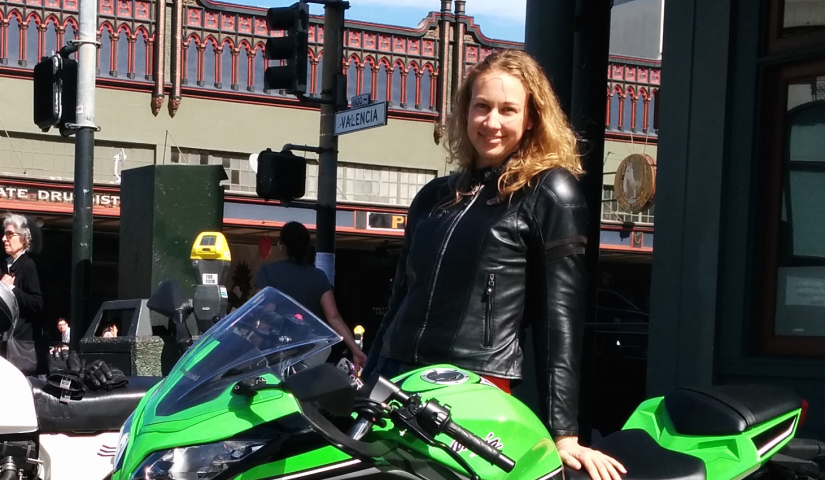 Participant Spotlight
Meet Lindsay Tyson—living boldly in the air, on land, and involved in T1D research
If you live in the San Francisco Bay area, you might see Lindsay Tyson cruising around town on her green Kawasaki Ninja motorcycle. Or you could catch her doing flying trapeze at the circus school, where she teaches in her spare time.  
The 39-year-old software engineer is used to living boldly. So, even after a traumatic T1D diagnosis during the pandemic, it's no surprise she was the first to join TrialNet's newest study at University of California, San Francisco (UCSF). 
What is the Tolerance Using Plasmid in People with T1D (TOPPLE) Study? 

Now enrolling participants at 16 sites across the United States, the TOPPLE Study is testing the safety and dosing of a new plasmid therapy. Called NNC0361-0041, it carries DNA into cells where it can communicate with the immune system.  

Earlier studies in the lab show this therapy might be able to retrain the immune system to stop its attack on insulin-producing beta cells. This study is the first to test the plasmid in people, which is why it's called a phase 1 study.  

The TOPPLE Study is open to adults ages 18 to 45 with a T1D diagnosis in the past 48 months.   
In November 2020, Lindsay was diagnosed with T1D after several months of failing health and misdiagnoses. She says it was a relief when she met Umesh Masharani, M.D., at UCSF. "Dr. Masharani and his resident spent 2 hours with me, talking me through everything with empathy, humor, and reassurance in the way I needed it."  
"I came away with the prescriptions I needed and answers to my questions – all tailored to me," Lindsay said. "They acknowledged the trauma—physical and emotional—of the whole thing. It was an incredibly positive experience following a really difficult time."   
While looking for clinical studies online, Lindsay found TrialNet and sent an email asking about current research. "Knowing that I still produce quite a bit of insulin, and that T1D in adults tends to progress more slowly than in children, my intuition was telling me I'm in this interesting window where I could possibly slow this thing down," she said.  
Online inquiries like Lindsay's are referred to the closest TrialNet clinical center. Rebecca Wesch, TrialNet Clinical Study Coordinator at UCSF, reached out to Lindsay initially and then got back in touch when the TOPPLE Study launched. 
At Lindsay's first visit with the TrialNet research team, she met with UCSF Principal Investigator Stephen Gitelman, M.D. "He helped me to understand more about the mechanism being tested and what led to this point in the research," says Lindsay. 
Lindsay recently completed the treatment phase of the study, which included 12 weekly visits. The first was an inpatient visit (48 hours in-hospital), followed by 11 outpatient visits. Now she'll return every few months for tests and monitoring. 
"The research team is really knowledgeable. They're not rushed and have been super responsive to any questions or concerns. I feel like a VIP. Rebecca makes sure everything is organized and sets up everything for Dr. Gitelman. They're a great team, and I feel like I'm in incredibly good hands."  
If the TOPPLE study results in no safety concerns and impacts the immune response, TrialNet plans to conduct a larger study with people at high risk to see if the same treatment can slow down or stop the disease from progressing to clinical diagnosis. 
To anyone considering joining a clinical study, Lindsay advises, "Listen to your body. If you're feeling pretty stable, it could be an ideal time. When Rebecca first reached out to me, my symptoms had been fluctuating a lot and I was reluctant to introduce more unknowns. I decided to wait a few months before enrolling in the study, and I have felt a lot more comfortable as a result." 
"This is really just part of my coping strategy. I'm still working through the stages of grief with having diabetes, and honestly it's been pretty hard to find any silver linings. I think my primary motivation in joining this study was a desire to salvage something good from this situation and hopefully reduce the amount of suffering for others—especially kids—in the future." 
To learn more about the TOPPLE Study or find out if you're eligible, visit trialnet.org/topple.