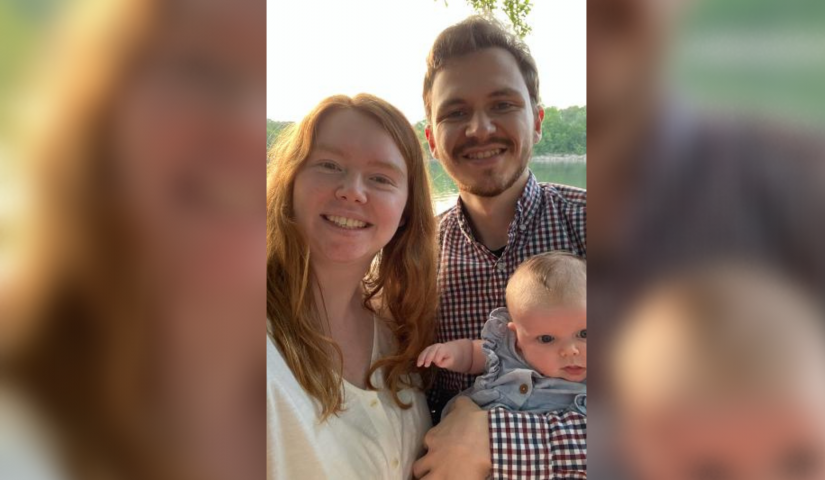 Participant Spotlight
Meet Adam Brooks of Cleveland, TN—engineer, new dad, and research pioneer
Adam Brooks, pictured here with his family, was diagnosed with T1D in 2018. He was the first person to enroll in TrialNet's TOPPLE study at the Vanderbilt Eskind Diabetes Clinic.
Adam Brooks' type 1 diabetes (T1D) journey started with common symptoms of increased thirst and urination, but then it took a unique turn. 
After receiving a T1D diagnosis in the hospital on Thanksgiving weekend 2018, Adam had an extensive "honeymoon phase." During this time, his pancreas continued to make some insulin, decreasing his need for regular insulin injections. Then, last September, when he needed to go on insulin full-time, Adam decided to do some research.
What is the "honeymoon phase" in T1D?
Some people with T1D experience a brief remission called the "honeymoon phase." During this time, their pancreas may still secrete some insulin. Over time, this secretion stops, and the person requires more insulin from injections. The honeymoon period can last weeks, months, or even years.
"I was wondering if there was any sort of clinical trial that might help me or help type 1 diabetes research," recalls Adam. "I went on ClinicalTrials.gov, filtered trials for type 1 diabetes and locations, and saw the listing for the TOPPLE study at Vanderbilt. I thought it sounded like a low-risk, high-reward kind of thing to do."
What is ClinicalTrials.gov?
ClinicalTrials.gov is a web-based resource that provides anyone with information on publicly and privately supported clinical studies on a wide range of diseases and conditions. The website is maintained by the National Library of Medicine (NLM) at the National Institutes of Health (NIH). 
The TOPPLE study is a phase 1 study, which means this is the first time the treatment, NNC0361-0041, is being tested for safety in people. The treatment is a plasmid vector designed to transfer DNA into cells, where it can communicate with the immune system. 
Adam says before he was screened for the study, Dr. Russell, Principal Investigator at the Vanderbilt Eskind Diabetes Clinic, talked him through the treatment — what the drugs are, what they do, and how they work together. Although Adam was eligible for the study, he had to wait for a spot to open. 
This study requires a staggered enrollment process that allows TrialNet to evaluate the safety of the treatment at each dose before enrolling additional participants. As soon as there was an opening, Adam enrolled. 
"At my first study visit in April, I got an injection and stayed at the hospital two nights for observation," explains Adam. "I brought work along and worked." 
Adam then came back for 11 outpatient visits, getting a weekly injection and additional tests. Now he's in the study's 9-month follow up phase, returning to Vanderbilt at months 3, 4, 6, and 12 for tests and monitoring. 
Brenna Hammel, TrialNet Research Coordinator at Vanderbilt says, "Adam's awesome! He completed his screening visit within a few weeks of his wife giving birth and has even brought his wife and baby to the research center. It's been such a delight to have them!"
"Participating in the study has been a good experience," says Adam. "Brenna and Dr. Russell have been great. All the nurses and everyone there have been super helpful — very good about explaining what's happening and very involved." 
Regarding study participation, Adam says, "It's a good thing to do. Even if it doesn't cure you, it can always point toward something that might help someone later down the line — whether that's a cure or prevention."
Earlier studies in the lab show the treatment being tested in the TOPPLE study might retrain the immune system to stop its attack on insulin-producing beta cells. If this study results in no safety concerns, TrialNet plans to conduct a larger study to see if this same treatment can slow down or stop T1D in people at high risk, before clinical diagnosis.
The TOPPLE study, available at 16 sites across the United States, has limited spots remaining. If you're an adult (age 18-45) diagnosed with T1D in the past 4 years, you may be eligible to join. To learn more, visit trialnet.org/topple.