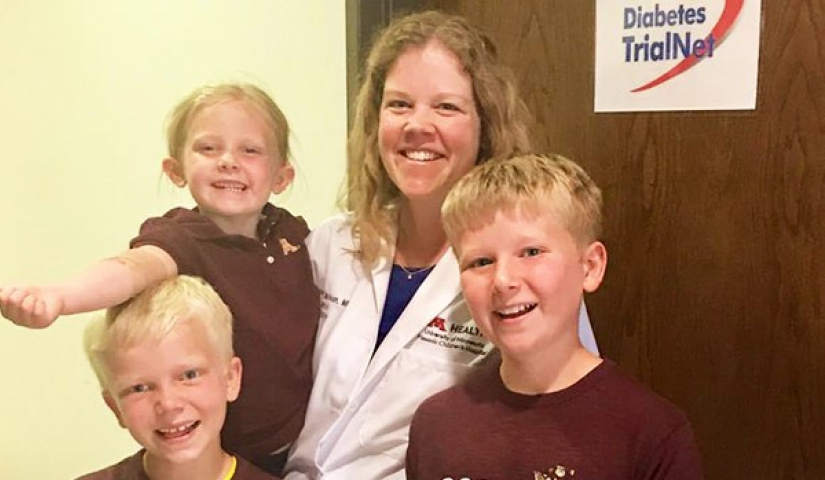 Staff Spotlight
Dr. Jennifer McVean: TrialNet clinician and grassroots advocate
Diagnosed with type 1 diabetes (T1D) at age 11, Jennifer McVean, MD, had not heard of TrialNet until she began working as a pediatric endocrinologist. Now, as part of the pediatric endocrinology team at University of Minnesota, Dr. McVean is a TrialNet advocate heavily involved in spreading the word about screening and studies.
"TrialNet does an excellent job of recruiting siblings of patients with T1D, but we need to do a better job of informing adults with T1D that screening is available for their children and other relatives," says Dr. McVean.
In addition to speaking with general pediatricians and family practice physicians, she is also making connections with adult endocrinologists to make sure they know about TrialNet, so they can inform their patients. She emphasizes how type 1 diabetes can be predicted through a simple blood draw, and that relatives of people with the disease are 15 times more likely to develop type 1 diabetes than the general population. 
Dr. McVean has been getting her own children screened annually by TrialNet since they were eligible at one year of age. She says, "I want to know I gave them every opportunity to prevent T1D. And, if I can prevent one person from getting T1D, whether it's my child or anyone else, my entire life's work would be achieved." 
When telling physicians and families about TrialNet, Dr. McVean emphasizes that knowledge regarding T1D risk is important. "A negative result provides some reassurance. Additionally, the older the child gets, the less likely he or she is to become positive. And, if a participant is positive, he or she may qualify for a prevention trial."
"I'm really excited about the HCQ Prevention study as a new option," adds Dr. McVean. It's an oral drug and is approved for ages 3 and up." (See related article: TrialNet Launches HCQ Prevention Study.)
She also points out an important benefit of participating in a prevention study is decreased risk of diabetic ketoacidosis (DKA), a life-threatening condition that can occur in people with type 1 diabetes. For people participating in T1D research, risk of DKA at diagnosis drops from 30% to 3%.
Pictured: Jennifer McVean, MD, pictured with her children, Joseph (10), Peter (8), and Elizabeth (5), at a recent TrialNet screening appointment at University of Minnesota.