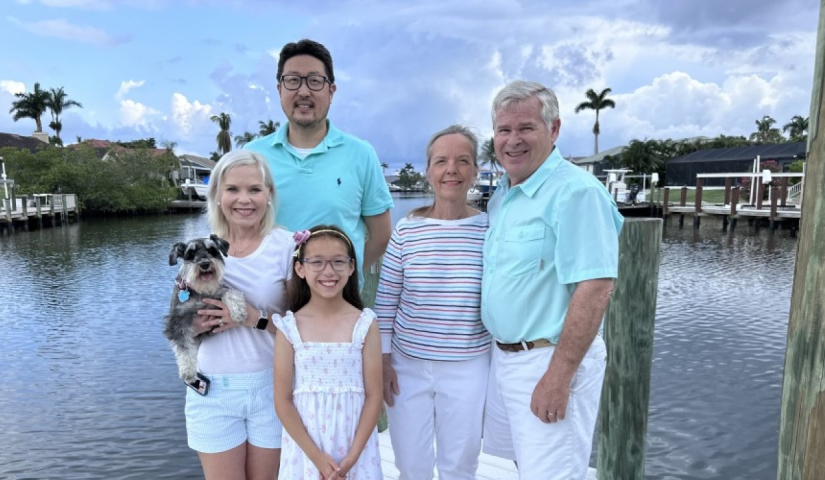 Media Release
Diabetes camps provide summer fun and independence
DECA Executive Director Terry Ackley, and his wife, Carol, volunteered at Camp Seale Harris for several years before he was hired as the Camp's executive director in 1995. He served in that role until joining DECA in 2012. Pictured here: Terry and Carol (right) with daughter, Emily (left), son-in-law, Patrick, and granddaughter, Vivienne.
When you think about summer camp, you probably picture kids swimming, hiking, and singing songs around a campfire. You might also assume that summer camps aren't equipped to manage the medical needs of kids with type 1 diabetes (T1D). Fortunately, there are hundreds of diabetes camps around the country that offer all the fun activities you'd expect, and more!
This summer, member camps of the Diabetes Education & Camping Association (DECA), a nonprofit network of educational camps and programs for youth with T1D, will offer 350 camp sessions in 48 states. In addition to traditional camp fun, diabetes camps teach kids important skills to manage their diabetes, like monitoring their blood sugar levels and how to safely give themselves insulin.
Diabetes camps are also sensitive to parents' safety concerns. DECA Executive Director Terry Ackley recalls how worried he and his wife were decades ago when they dropped off their 8-year-old daughter, Emily, at Camp Seale Harris, a diabetes camp in Alabama. 
"Emily was diagnosed with T1D when she was 11 months old and had never been in anyone else's care," said Terry. "We were that classic family that didn't want to leave our child. The camp's director and her husband spent more than an hour with us, explaining the people and precautions they had in place to keep campers safe. They eventually talked us into leaving, and Emily had a great experience."
In fact, it was Emily's first camp experience that inspired Terry and his wife to start volunteering at diabetes camp and ultimately led to Terry's job heading up DECA.
While diabetes camps are usually geared to youth ages 5 to 17, DECA members also offer camps for families with infants and children too young to attend camp on their own. Family camps offer a chance for parents to connect and learn from each other, while providing education, coaching and fun activities. Tiered pricing is often available to make camps more affordable, and no one is turned away due to their inability to pay.
DECA expects between 20,000 and 25,000 campers this summer, which is the first time camps will be held fully in person since the start of the pandemic. In addition, Terry estimates at least 5,000 health professionals trained in T1D management, and another 5,000 young adults—most former campers with T1D—will volunteer at diabetes camps this year. Some staffers are TrialNet team members, like TrialNet Vice Chair Dr. Linda DiMeglio, who has served as diabetes camp director at Camp John Warvel in northern Indiana for the past 25 years.
Because relatives of people with T1D are 15 times more likely to develop the disease than the general population, TrialNet attends diabetes camps to screen family members at drop off and pick up. TrialNet risk screening can identify T1D in its earliest stages, often years before symptoms appear.
Terry says DECA's 20-plus year partnership with TrialNet offers families something tangible they can do to identify risk early and learn about opportunities to advance T1D research. In fact, Terry's 9-year-old granddaughter, Emily's daughter, was recently screened by TrialNet.
 
"With all the advances in early detection, treatment and technology, if my granddaughter develops T1D in the future, her experience will be totally different than her mother's," said Terry. "Thanks to research, we've made a lot of progress, and that's making a difference in the lives of families with T1D."
To find a diabetes camp or learn more about DECA, visit www.diabetescamps.org.
TrialNet goes to camp!

For more than 20 years, TrialNet has been partnering with DECA camps across the country to screen campers' relatives during drop off and pick up. The good news is that 95% of relatives will be negative for the autoantibodies that signal the early stages of T1D. And for the 5% who test positive, TrialNet is there for the journey—providing access to leading T1D experts, monitoring and research studies.

Here are three stories of people screened by TrialNet at diabetes camp who went on to participate in prevention studies.   

Diabetes camp has been a major factor in Ella Morrison's journey to independence in managing her diabetes care. Her parents, Ian and Heather, say these camps are empowering and have given them the confidence to do all things without fear.
Jadah Schuh was eight when she got screened at Camp Needlepoint in Hudson, Wisconsin, where her brother Travis was a camper. After overcoming her fear of blood draws, she joined a prevention study.
Parents (up to age 45) can also get screened at camp. Tim Garman learned about TrialNet screening while dropping off his two daughters with T1D at Camp McCumber in northern California. Of all the Garmen family members screened at that time, Tim was the only one who tested positive for diabetes-related autoantibodies. He later joined a prevention study.

If your family can't make it camp this year, you can still get screened. TrialNet offers three free, convenient screening options:

Order an in-home test kit. This kit has everything you need to collect a blood sample using a fingerstick.
Order a lab test kit. You'll take this kit to an appointment you schedule with a local Quest or LabCorp lab.
Schedule a blood draw at a participating TrialNet site.

To learn more about screening or find a participating TrialNet site, visit www.trialnet.org/partcipate.