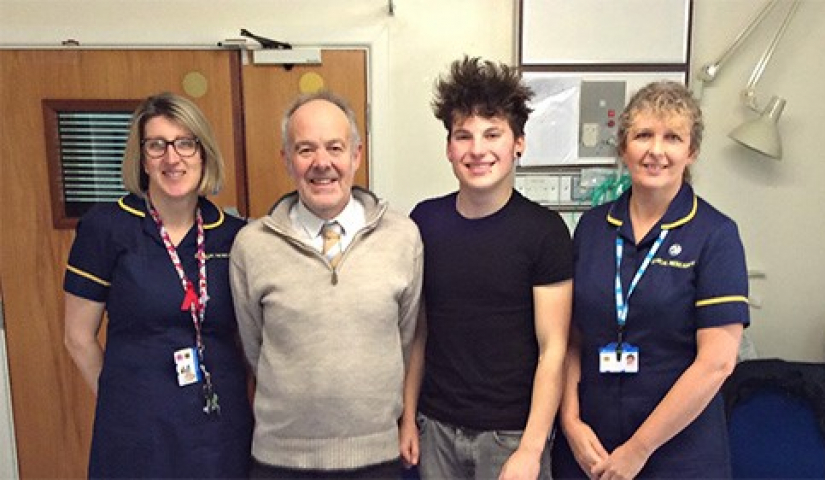 Participant Spotlight
Bristol area teen first in UK to participate in Abatacept Prevention Study
Elliot, a 17-year-old from a small village outside Bristol, recently completed treatment in the Abatacept Prevention Study. He is the first person in the United Kingdom (UK) to do so.
The Abatacept Prevention Study is exploring the drug's usefulness in slowing or preventing progression of early stage type 1 diabetes. In an earlier TrialNet study for people newly diagnosed, those who took abatacept showed 59% higher insulin production and prolonged insulin production. The hope is that that starting the treatment earlier–before clinical diagnosis–will produce even better results.
Elliot was 8 years old when he and his two brothers were first screened by TrialNet. His father, Paul, learned about screening from Elliot's grandmother, who developed T1D in her mid-20s. She received a letter from the British Diabetic Association inviting relatives of people with T1D to get screened by TrialNet. While Elliot's brothers were negative for the autoantibodies that signal the early stages of T1D, Elliot tested positive for one.
Paul recalls, "We were invited to TrialNet's Bristol site for monitoring Elliot's health, and we've participated ever since, going in twice a year for testing. Over the years, he tested positive for additional diabetes-related autoantibodies. Then, in the summer of 2015, we learned that Elliot was eligible for the Abatacept Prevention Study at Musgrove Park Hospital in Taunton, which was convenient for us."
Elliot says, "The first visit was a little scary, but the doctors and nurses were very kind, and the whole experience was absolutely fine. Taunton was flexible with my school schedule, and it all worked out very well."
He adds, "Some people hate the idea of needles and IVs. But if you're willing and fine with needles, and your schedule permits, it's a good thing to do."
The treatment phase of the study includes three IV infusions in the first four weeks (every other week), then one infusion monthly for 11 months. Elliot is now in the follow-up phase of the study, returning to Taunton twice a year for tests and monitoring. He won't know whether he received the study drug or the placebo (looks like the study drug but is inactive) until the end of the study.
"It's quite cool being on the forefront of T1D research and being able to help," says Elliot. "The feeling that my sitting in a chair for 2 hours every now and again could help someone is quite nice."
"Elliot is very modest," says Musgrove's Diabetes Research Nurse, Sue Crouch. "It's a huge commitment for a young participant to take on. Our goal was to deliver the most positive experience possible, and I think we were able to do just that."
Sue hopes to use Elliot's testimonial as the first in a pool of testimonials that could be shared with prospective study participants throughout the UK.
Congratulations to Elliot, his family, and his TrialNet team for helping lead the way in this important research!
To learn more about TrialNet screening and research studies at Musgrove Park Hospital, contact Sue Crouch at Susan.crouch@tst.nhs.uk or 01823 344738.
If you live elsewhere in the UK, contact Sam Loud at the TrialNet Clinical Center at Sam.Loud@bristol.ac.uk or 0117 414 7920.
Elliot and father, happy to be on the forefront of T1D research, pictured here with Pediatric Research Nurse Nicki Thorne (left), and Diabetes Research Nurse Sue Crouch.